Its with all the excitement of a puppy getting his first Kong full of peanut butter that I announce PawSau Pet Sitters new Co-Owner, Brittany Goebel!
Brittany comes to us from Appleton, Wisconsin. She has a BA in Criminal Justice and has spent the last seven years working at Wal-Mart, primarily in Loss Prevention (getting the bad guys as they try to steal). She has an absolute gift with animals, particularly those with high anxiety or a history of abuse. She has a calming nature that brings out a trust from them that's amazing to witness. She personally owns five rats and loves repurposing items to make hideaways for them.
I've found Brittany to be one of the most careful and honest people I've met, and after months of her coming along for hours and hours of pet care stops for fun, I offered her to opportunity to become Co Owner of Pawsau because I know she will be the perfect addition to the team. My outgoing personality is balanced by her quiet focus….tie that together with our limitless love of animals and the families they're part of and who knows how far this business will go!
In her own words…
"I took a chance to become Co-Owner of PawSau because, above all things, I love animals. The idea of being "our pet sitter" for 70+ families across Central Wisconsin is a dream come true. There wasn't a lot holding me down in Appleton, so why not give it a shot?"
If you would like a complimentary meeting with Brittany, please contact the office at 715-302-2336. We can't wait for her to become part of your pack.
-Shannon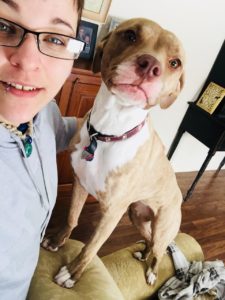 Brittany is bonded under Business Insurers of the Carolinas, and a member in good standing of Pet Sitters International